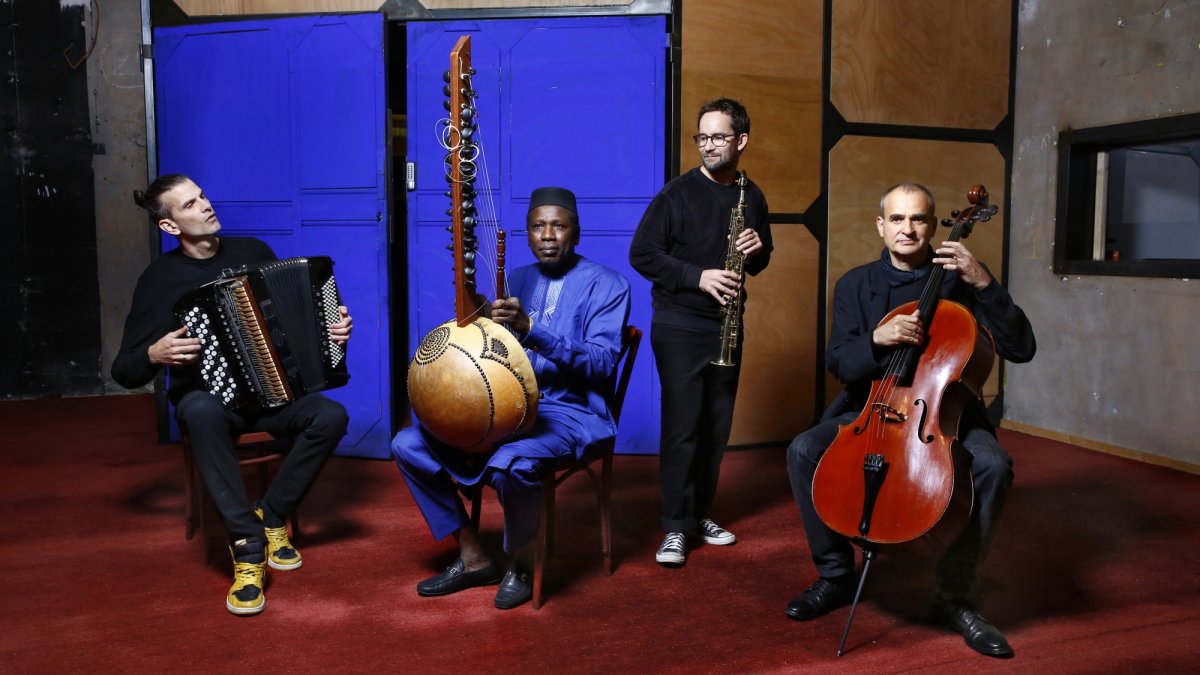 Sissoko, Segal, Peirani and Parisien
Wed 15 November 2023
Stage time / 7:30pm
Doors / 7:00pm
Location
Cadogan Hall,
5 Sloane Terrace
SW1X 9DQ
The stellar quartet featuring Ballaké Sissoko (kora), Vincent Segal (cello), Vincent Peirani (accordion) and Émile Parisien (sax), channel a multitude of influences to irresistible effect.
Malian musical royalty Ballaké Sissoko has spent many years making records with French cellist Vincent Segal that bring together Manding and European chamber traditions. Meanwhile, Émile Parisien and Vincent Peirani have worked together as a saxophone and accordion duo somewhere in the hinterlands of jazz and folk. In the new album Les Egarés (2023) meaning 'those who have gone astray', the two pairs combine and recombine in the art of cross-fertilising sounds and transcending genres.
Les Egarés reminds us of the rebelliousness that can be found in a spirit of concord and the extent to which the art of playing together with such fine intelligence can generate an extremely subtle way of lighting a fuse. In Les Egarés, they succeed in reordering the musical landscape to uncover lines of escape of a hitherto unheard beauty.
Ballaké Sissoko (kora)
Vincent Segal (cello)
Vincent Peirani (accordion)
Émile Parisien (sax)
"Sissoko, Segal, Parisien & Peirani conjure a musical impressionism in Les Égarés"

Financial Times
For the first time ever, Festival Friend passes are available to purchase for the EFG London Jazz Festival. This highly-limited ticket enables you to choose 10 shows, over the 10 days of the Festival, saving you over 40%. Find out more here.
I've been thrilled to hear the kora harp bringing West Africa's ancient griot traditions into so much new music. This is a brilliant opportunity to catch kora master, Mali's Ballake Sissoko with star French players Emile Parisien, Vincent Segal and Vincent Peirani.

Sarah Ward, Jazz FM Recommends 2023