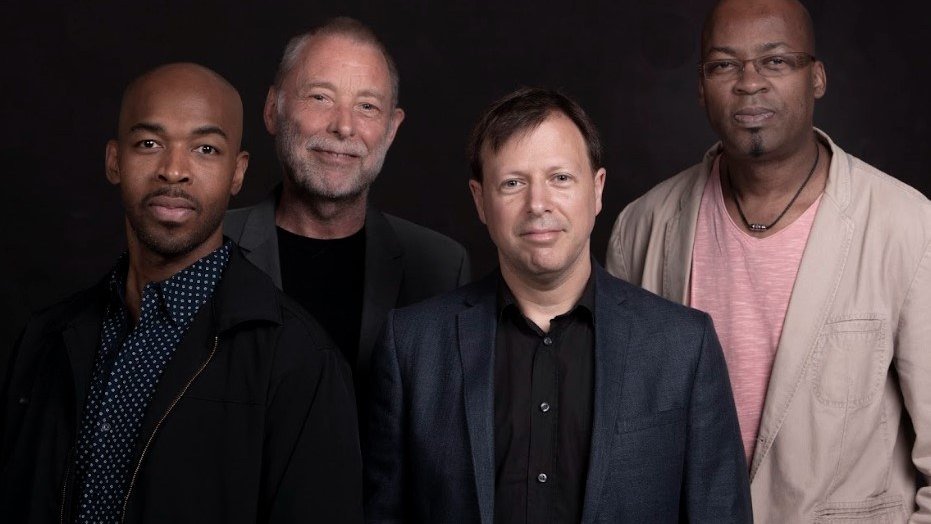 Dave Holland, Chris Potter, Lionel Loueke, Eric Harland: AZIZA
Wed 16 November 2022
Stage time / 7:30pm
Doors / 7:00pm
Location
Cadogan Hall,
5 Sloane Terrace
SW1X 9DQ
The modern jazz supergroup AZIZA a collective made up of four all-star jazz heavyweights including bassist Dave Holland, saxophonist Chris Potter, guitarist Lionel Loueke and drummer Eric Harland, will be performing as part of the 30th birthday celebrations of the EFG London Jazz Festival.

Aziza's music can be friendly or downright ferocious, depending largely on the setting, but it's never anything less than first-rate

All About Jazz
One of the most prolific jazz bassists in history, Dave Holland sits at the centre of these tunes. From his days as a member of the late '60s Miles Davis Quintet to leading his own small and large ensembles, Dave Holland's bold creativity has enhanced the role of the bass in contemporary music as a solo and ensemble instrument.
Multi-Grammy nominated jazz drummer Eric Harland is one of the most in demand jazz drummers of his generation. He has shared the stage with the likes of Betty Carter, Joe Henderson, Terrence Blanchard and many more as well as playing with emerging artists like Esperanza Spalding and Julian Lage.
The frontliners of AZIZA are saxophonist Chris Potter and guitarist Lionel Loueke, who amazed audiences whilst performing on tour with Herbie Hancock.
The group toured widely before releasing their debut eponymous album in 2016 on Holland's own Dare2 Records Label.