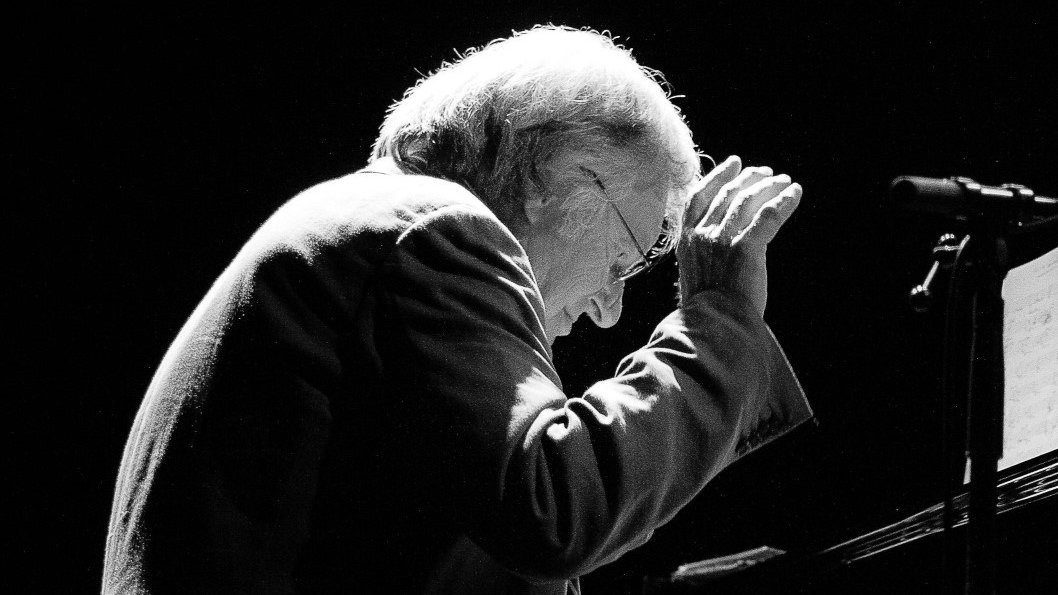 The Westbrook Blake: settings of the poetry of William Blake by Mike Westbrook
Fri 19 November 2021
Stage time / 7:30pm
Location
LONDON Cadogan Hall,
5 Sloane Terrace
SW1X 9DQ
We celebrate Mike Westbrook's 85th birthday year by bringing back to the concert hall what the IoS called "perhaps the greatest work in all British jazz". 
The Westbrook Blake (also known in different versions as Glad Day and Bright As Fire) is one of Mike Westbrook's most joyous and powerful works. This concert features the two original singers, Kate Westbrook and Phil Minton: Mike Westbrook leads his own band with a choir directed by Paul Ayres.

Kate Westbrook voice
Phil Minton voice 
Mike Westbrook piano
Steve Berry double bass
Billy Thompson violin
Karen Street accordion
Chris Biscoe saxophones
The Epiphoni Consort
This concert is supported by The Airshaft Trust

Mike Westbrook's settings are among the greatest British music of the century - bold, optimistic and inspiring.

The Independent
Mike Westbrook makes full use of his two striking vocalists, Kate Westbrook and Phil Minton. He finds music to match the ecstasy of I See Thy Form, the desolation of London Song, turns A Poison Tree into a blood‐curdling tango, and fashions a magnificent anthem for Let The Slave/The Price of Experience, Blake's great paeans to freedom, dignity and compassion.

WIRE Magazine
Mike Westbrook's 85th birthday will also be marked in the EFG London Jazz Festival by two other special concerts:-
Sunday 14 November, 1pm PizzaExpress Jazz Club, Dean Street
Mike Westbrook: Solo Piano, and Mike Westbrook interviewed by Richard Williams

Wednesday 17 November PizzaExpress Jazz Club, Dean Street
Kate Westbrook and the Granite Band featuring Mike Westbrook
Kate Westbrook and the Granite Band premiere their new album Earth Felt The Wound (its title a quote from Milton's Paradise Lost) at PizzaExpress on 17 November, exploring contemporary themes with irony and passion. Kate's distinctive, theatrically charged vocal style has won her an international reputation: "a voice for winter, exile, anger, but also for love and prophesy" (Jazzwise). Her strikingly original lyrics will be matched by the genre-busting score of Mike Westbrook and the 'empathetic contributions' of The Granite Band.