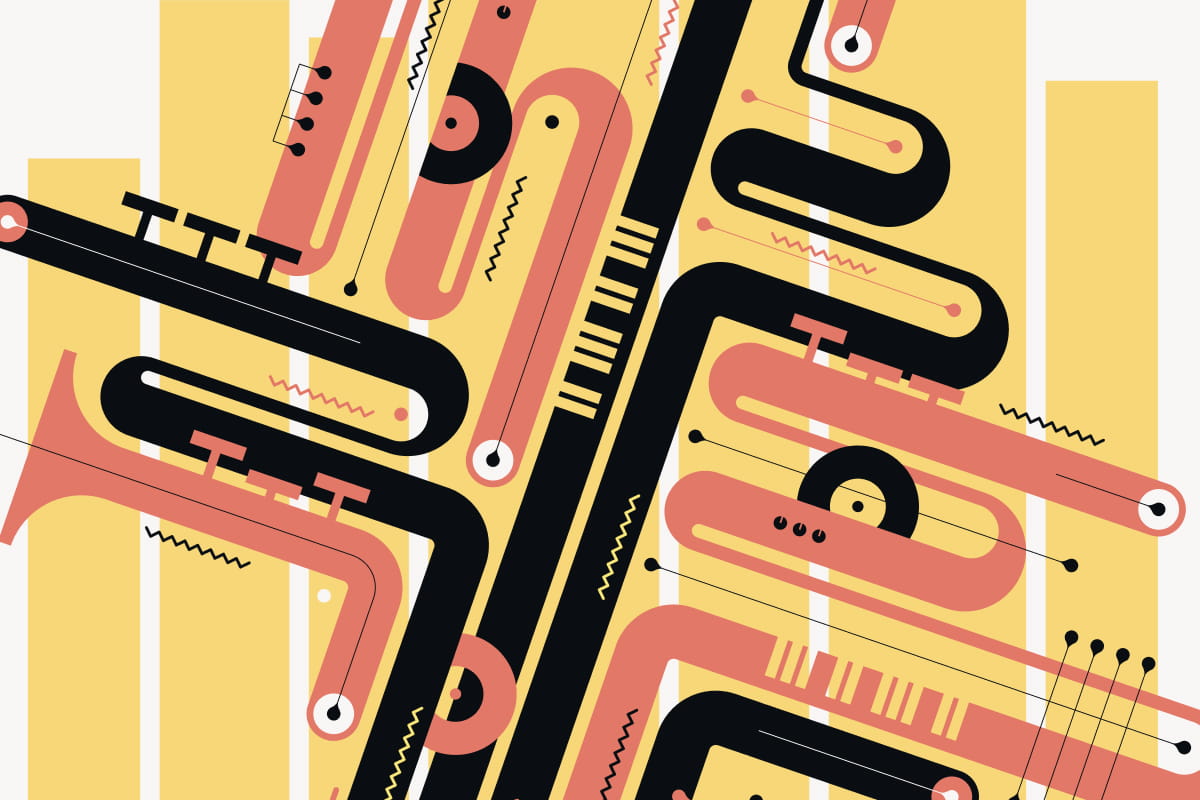 PYJÆN
Sat 13 November 2021
Stage time / 10:00pm
Doors / 8:00pm
Location
LONDON The Jago Dalston,
440 Kingsland Road
London
E8 4AA
Contemporary jazz/fusion act PYJÆN celebrate the release of their new album 'Feast', with live performances and DJ sets across two floors.
PYJÆN reach inside the deep, multidimensional well of what is broadly called Jazz and bring together all its diverse components in a singular, emotional sound.
Join the combo to celebrate in person the release of their second album 'Feast' on the 10th of Sept 2021 via DeepMatter Records.
After setting a blueprint for their multi-faceted artistry combining cross-genre sensibilities with ferocious talent on their first two releases, the band has been busy writing and recording music for their second album FEAST, their most accomplished offering yet.
Showcasing their growing abilities and confidence as a group of 5 individuals with strong personalities and varied sets of influences, their new album fearlessly navigates the world of funk, jazz, hip-hop and punk, with their trademark raw energy and the common objective of bringing people together in their love for music.
Formed in 2016, the band comprises of Dani Diodato (guitar, Arlo Parks), Dylan Jones (trumpet), Ben Vize (sax), Benjamin Crane (bass) and Charlie Hutchinson (drums).
They released their debut self-titled album to wide critical and public acclaim, garnering support from the likes of Gilles Peterson, Huey Morgan, Jazz FM, and Clash Magazin
The new chapter of their musical journey creates room for featured artists once again, an exercise they thoroughly enjoyed on their 'Sage Secrets' EP with Blue Lab Beats and Odette Peters, which reached over 1M streams on Spotify within only 6 months, testimony that the band has become a major force in the UK "Jazz and beyond" scene.
PYJÆN'S new album was recorded at Peter Gabriel's legendary Real World Studios over a full week, an experience that elevated the music and created an unrivaled connection between the band members and featured artists such as Nix Northwest, Elisa Imperilee, Renato Paris and Corto Alto.
Adventurous songwriting, meticulous timing, incredibly tight horn arrangements and an obvious joy to play together are Pyjaen's hallmarks