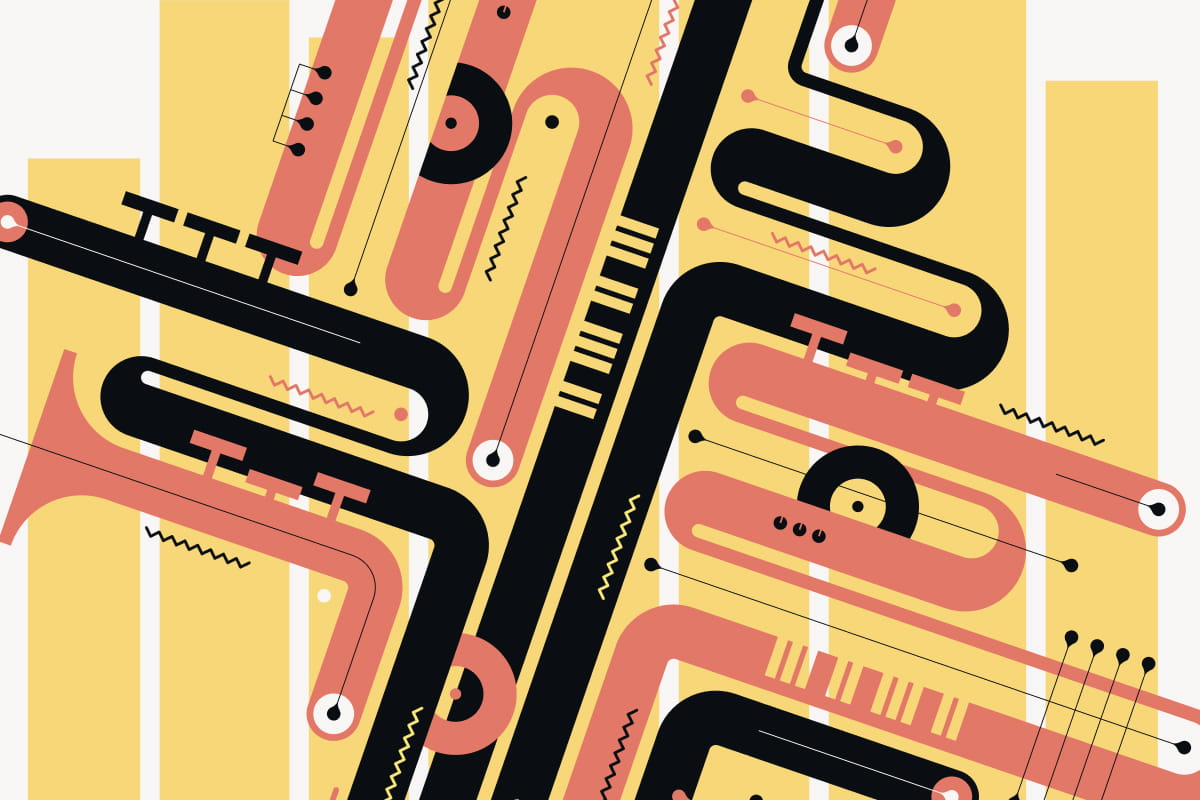 Pigfoot + Will Glaser
Tue 14 November 2023
Stage time / 8:30pm
Doors / 7:00pm
Celebrating the Jazz Clubs
Location
Green Note,
106 Parkway
NW1 7AN
A double bill at London's famous Green Note, featuring some of the UK's most established and celebrated musicians in Pigfoot, plus a solo set from the immeasurably talented drummer Will Glaser.

Pigfoot

Pigfoot was formed by Chris Batchelor in 2014 to play classic 1920's New Orleans themes with an open and original improvised approach to the material. This resulted in the acclaimed 2014 CD '21st Century Acid Trad', recorded live at the Vortex Jazz Club in London.

Their 2019 CD 'Pigfoot Shuffle' represents the highlights of this extensive repertoire. Here they turn their genre-bending skills to re-workings of Led Zeppelin's raucous "Black Dog", the 70's funk of Curtis Mayfield's "Pusherman", a South African township groove rendering of a Mozart aria from "The Marriage of Figaro" and, typically, a medley of Elvis Presley and Wagner material.

The music often turns on the unpredictable fulcrum of Liam Noble and Paul Clarvis' long term duo partnership, and the Pigfoot sound has  developed with the introduction of Noble's creative and imaginative keyboard setup. This allows Chris Batchelor and James Allsopp the option to combine as a flexible and powerful frontline, egged on by the inspired eccentricity of Clarvis' sparky and spiky drumming.

"Talk about originality. Pigfoot have absolutely nailed it….. you really do have to hear the music because it's just so damned different. Of all the 10 numbers here, the most obvious standout is the absolutely electrifying version of Led Zeppelin's Black Dog which positively leaps out of the speakers." Roger Farbey – Jazz Journal

Will Glaser

One of the most exciting and original drummers on the UK music scene, Will Glaser draws eclectically on the Jazz tradition, Improvised music, Rock, Noise, Folk, Blues, Experimental and Electronic music. He leads his own projects and is one of the most in demand drummer on the British Jazz and Experimental music scenes. Over the years, he has worked with many of Europe's biggest names, including Kit Downes, Soweto Kinch, and Jazz Ahmed.