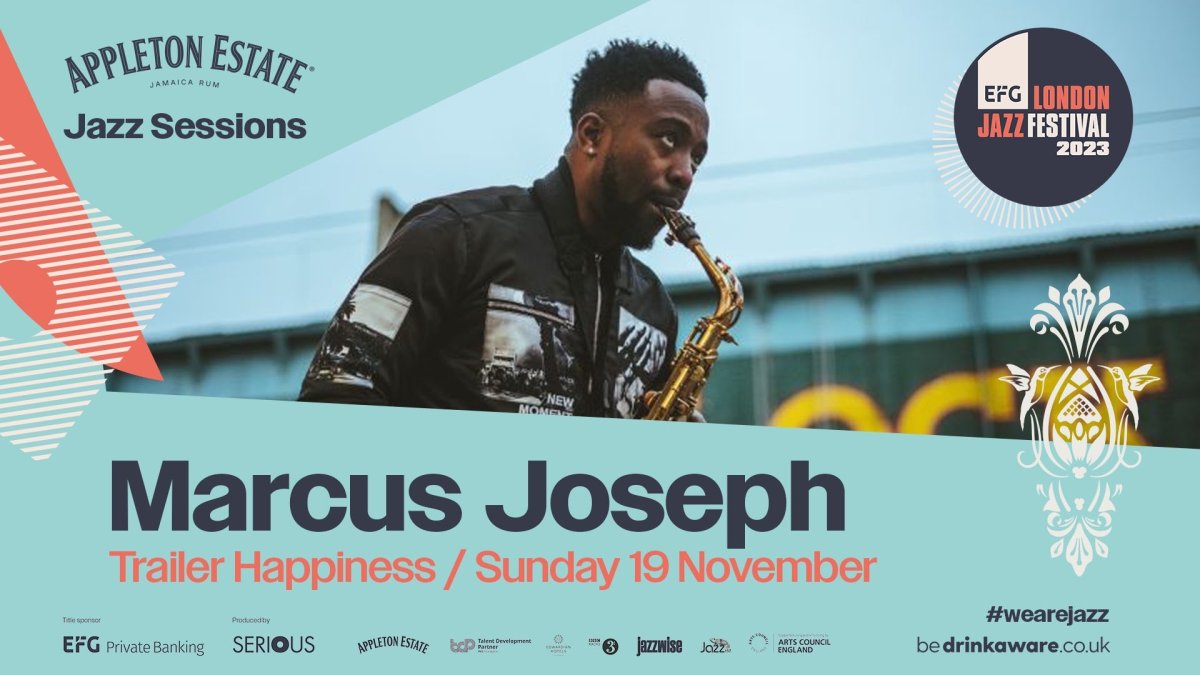 Marcus Joseph
Sun 19 November 2023
Stage time / 7:30pm
Appleton Estate Jazz Sessions
Location
Trailer Happiness,
177 Portobello Rd, London W11 2DY
Appleton Estate Jamaica Rum have enlisted four energetic artists, pairing them with an expert bar team, to create the Appleton Estate Jazz Sessions, a series that will get you on your feet!
The Appleton Estate Jazz Sessions is made up of four specially-selected shows to celebrate the ongoing influence of Jamaica on the British and international jazz scene. Each artist will have their own unique and fresh take on the genre, and their own stories on how Jamaica has influenced their sound. Audiences will have the chance to sip on the brand's signature Mai Tai cocktail whilst enjoying sounds inspired by Jamaica at this series of intimate gigs across the capital.
Musician and spoken word artist Marcus Joseph aspires to be an instrument of change. Whether playing a proud role in his local Leicester community, lending his talents to perform for George Cole - the city's first black mayor - or paying homage to his Afro-Caribbean roots with songs charged with the righteous energy of reggae music, the spirited Alto Saxophonist possesses the gift to uplift.

His debut album 'Beyond the Dome' (Jazz Refreshed) effortlessly blends jazz, reggae, hip hop with contemporary music and has won favour with the likes of Gilles Peterson (6 Music), Tom Robinson (6Music), Tony Minvielle (Jazz FM), DJ Lanni (Worldwide FM), opening the door to play at landmark events such as Love Supreme, Manchester Jazz Festival and We Out Here.

A seasoned live performer, Marcus has been known to bring the noise as part of hip hop/rock/punk influenced jazz trio Major Ruse; has supported the likes of Oscar Jerome, Blue Lab Beats and The Blackbyrds; as well as playing alongside luminaries such as Dennis Rollins, Tony Kofi, Arun Ghosh, Dave O'Higgins, Abram Wilson, Gary Crosby and Eska.

Marcus' relentless work ethic and commitment to creativity has even seen him venture into the VR space, where he is developing the Jazz Maze VR, an immersive experience that weaves together graphic novel aesthetics and video game interactive narrative to explore themes of freedom, oppression and creativity through storytelling, music and spoken word. https://planetradio.co.uk/jazz-fm/shows/jazzfm-voices-black-history-month/

For Marcus there is clearly no terrain that cannot be conquered by the alchemy of word sound power.