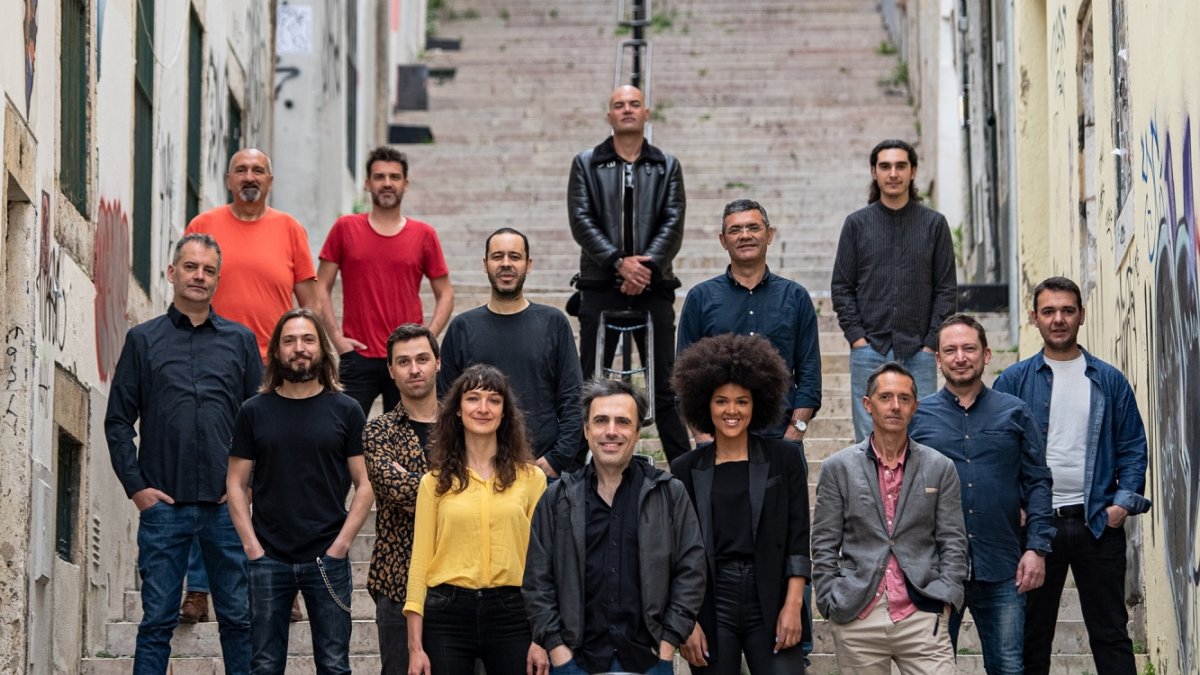 L.U.M.E. (Lisbon Underground Music Ensemble)
Sun 14 November 2021
Stage time / 7:45pm
All around the world
Beyond Margins
Location
LONDON Southbank Centre / Purcell Room,
Belvedere Road
SE1 8XX
The Portuguese experimental music ensemble L.U.M.E. (Lisbon Underground Music Ensemble), created and led by Marco Barroso, take the stage for their debut London performance.

L.U.M.E is a 15 piece ensemble of jazz and classical musicians, that moves in between affinities with the Big Band classical model and re-interpretations or provocations towards it. Within a dramatization, frequently ironic, of the practices and vocabularies of jazz, rock or classical music, and incursions into experimentalism, Marco Barroso and L.U.M.E. music transforms the Big Bands patrimony, breaking free of its conventional patterns and opening new aesthetic perspectives - a sort of kaleidoscope with broad horizons, in a permanent "what if?".

L.U.M.E release their 3rd originals album Las Californias in October, following the launch of the first single ,also called Las Californias, to great acclaim. Las Californias reveals the creative bubbling of the ensemble, that connects 15 musicians with the same vision: the search for unexpected and unlikely paths, in a permanent tension between composition and improvisation.

Born in 2006, L.U.M.E released its first homonymous album in 2010, and its second edition in 2013.  Their second album, Xabregas 10, was considered worldwide as one of the most original and defying music in the last years. Covering dissimilar states of mind, the music of Las Californias converges to an unreal landscape, of memories and lost dreams hovering over the rubble of an imagined reality. A project that continues their previous albums, in an uncertain path that is built until the studio audio recording of each piece.
There was an appealing air of gainful urgency as the group careered through densely textured, sumptuous soundscapes - some tending towards cacophony - interspersed by lyrical balladic slots, funk and groove.

Jerusalem Post
Marco Barroso - Composition, direction, piano
Manuel Luís Cochofel - Flute
Paulo Bernardino - Soprano Clarinet
João Pedro Silva - Soprano Saxophone
Tomás Marques - Alto Saxophone
Gonçalo Prazeres - Tenor

 Saxophone
Gabriela Figueiredo - Baritone
 Saxophone
Gileno Santana, João Silva, Ricardo Carvalho - Trumpets
Rúben da Luz, Eduardo Lála, Mário Vicente - Trombones
Miguel Amado - Bass
Vicky Marques – Drums
With the support of Portuguese Republic – Culture / Directorate-General for the Arts