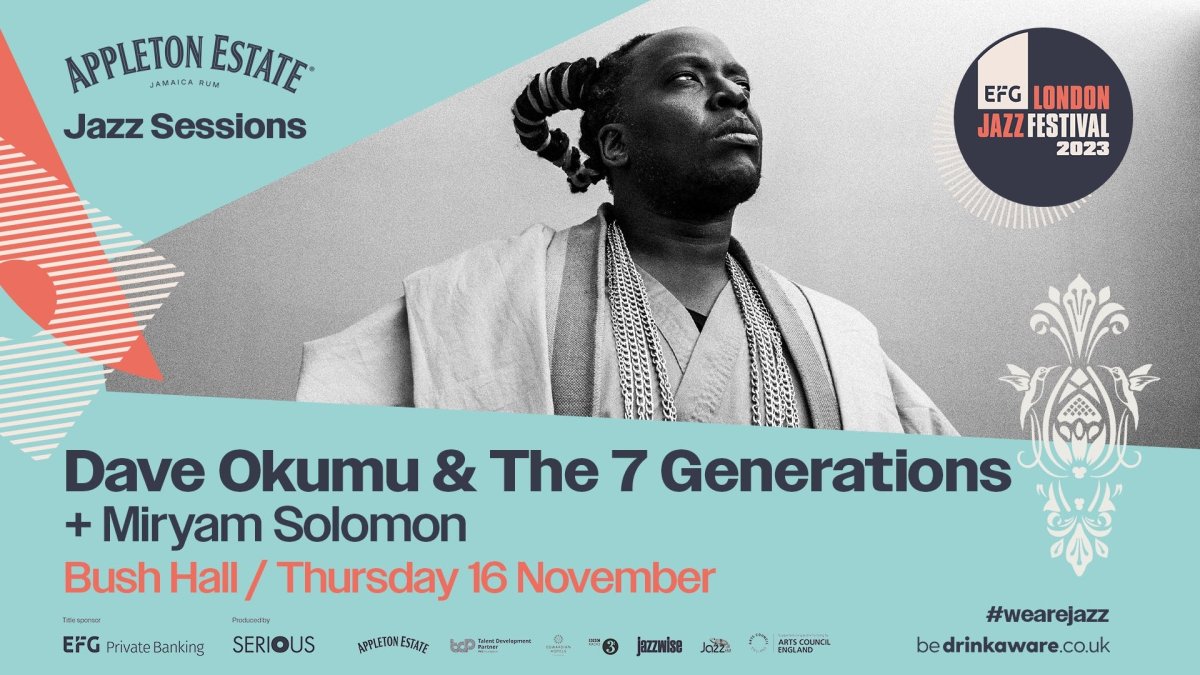 Dave Okumu & The 7 Generations
Thu 16 November 2023
Stage time / 8:00pm
Doors / 7:30pm
Homegrown
Appleton Estate Jazz Sessions
Location
Bush Hall,
310 Uxbridge Road
W12 7LJ
Appleton Estate Jamaica Rum have enlisted four energetic artists, pairing them with an expert bar team, to create the Appleton Estate Jazz Sessions, a series that will get you on your feet!

The Appleton Estate Jazz Sessions is made up of four specially-selected shows to celebrate the ongoing influence of Jamaica on the British and international jazz scene. Each artist will have their own unique and fresh take on the genre, and their own stories on how Jamaica has influenced their sound. Audiences will have the chance to sip on the brand's signature Mai Tai cocktail whilst enjoying sounds inspired by Jamaica at this series of intimate gigs across the capital.
Many musicians find creative freedom working alone in the seclusion of their room, but for Mercury nominated singer-songwriter and producer Dave Okumu, the most fruitful moments in his career have occurred in crowded rooms. "In my teens I was already on this journey where I was reflecting on the significance of relationships," Okumu explains, sitting in his South East London studio. "I want to learn how to connect with people and how to communicate because this is what life is about."
Okumu's career took off in the mid noughties' with the Mercury nominated art rock trio The Invisible. Beyond the band, Okumu also developed a reputation as a producer, session player, and musical mentor with the encyclopaedic knowledge and calming attitude to coax the best out of a cavalcade of artists including, Tony Allen, Amy Winehouse, Adele, Jessie Ware, and his hero Grace Jones.
Okumu released his first solo record Knopperz in 2021; an instrumental concept album based on pianist Duval Timothy's 2017 album Sen Am. It was friend and mentor Lexxx who sparked the soul searching that kicked off his next record after he told Okumu that he was trying to explain who Okumu was but struggled to summarise his vast catalogue.
"There are all these ways into these aspects of who I am and I felt like he was saying, it would be so cool if you could find out how to say who you are in a comprehensive way". Okumu took on that challenge and in response devised his sophomore release I Came From Love, a tapestry of Black experience that explores ancestry, the legacy of slavery, what it means to exist in an unjust society, and Okumu's own family history. It features a star-studded array of guests, including Eska, Kwabs, Wesley Joseph, Robert Stillman, Anthony Joseph, Byron Wallen, Raven Bush, and Grace Jones.
Okumu was certain he didn't want to make a standard producer record full of features, but he also did not want to be tied down working with a set band. To aid his vision, Okumu decided he wanted his backing band to change with each record. The musicians were also asked to adopt an alter ego to help them express themselves and their ancestry, and access parts of their personality that they might not otherwise bring out.
Rather than release solely under his name, Okumu has chosen the moniker 'Dave Okumu & the 7 Generations', which Okumu sees as "my actual ancestors, the ancestors of others, my musical ancestors, and my descendants". Sonically the album hits a kaleidoscopic frenzy of notes, rocketing through bass heavy rhythms, neo soul-tinged cries and frenetic spoken word passages.
Okumu's search into the past continues on '7 Generations' where over a sorrowful, electronic landscape that transitions into a rumbling, skittish dance track, Grace Jones declares we should "feel the resilience of seven generations."

Opening the evening is Miryam Solomon, a London-based artist, by way of Sweden and Eritrea. Her work is underpinned by her love for rhythm, vocal interplay, and storytelling- garnering support from the likes of Jamie Cullum and Hannah Peel.
Romance, her latest release on South London label Albert's Favourites, is a dreamlike and enigmatic quartet of songs, where unexpected turns and sounds, interlocking rhythms and voice, weave together a journey through different moods and colours.
As a collaborator, Solomon is involved in a wide range of projects, including Deep Throat Choir, Ben Marc, Scrimshire, Huw Marc Bennett, and most recently releasing on Blue Note Records with Matters Unknown.
"I hope that listeners will feel like they're part of the 7 Generations and when I perform on stage that every member of the band is part of the 7 Generations [...] That's really what the idea is about and that's why it's not just Dave Okumu. It stands for more than that."

Dave Okumu