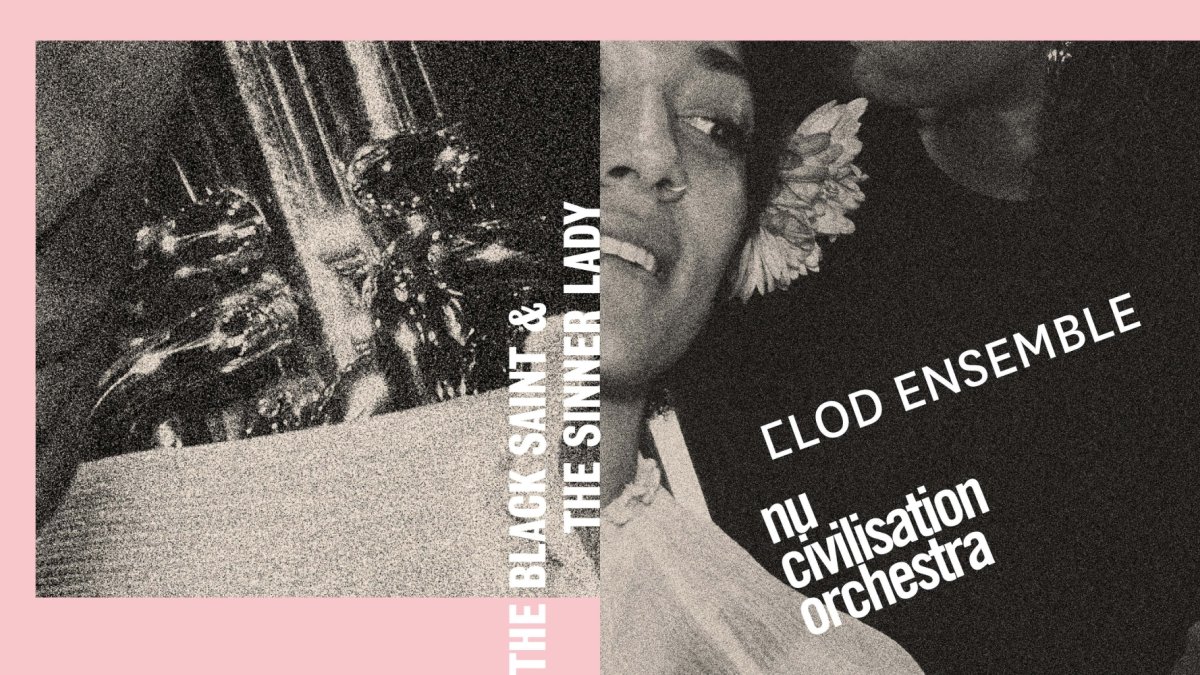 Clod Ensemble and Nu Civilisation Orchestra present Charles Mingus' 'The Black Saint and the Sinner Lady'
Fri 10 November 2023
Stage time / 8:00pm
Doors / 7:00pm
Location
Shoreditch Town Hall,
380 Old St, London EC1V 9LT
Clod Ensemble and Nu Civilisation Orchestra present a new perspective on Charles Mingus' iconic 1963 recording The Black Saint and the Sinner Lady, transforming the Grade II-listed Shoreditch Town Hall into a vibrant cabaret venue to mark the sixtieth anniversary of the album.
The Black Saint and the Sinner Lady is a seminal 20th century jazz composition and is still regularly cited as Mingus' finest hour. The Densely-structured passages dissolve into clusters of rambunctious collective improvisation; the rhythm section oscillates between the infectious groove of the dancehall and lilting contemplation.
Mingus always envisioned dance accompanying his provocative masterpiece. To honour that vision and to bring Mingus' music to life for a new generation, Clod Ensemble will be joined by Nu Civilisation Orchestra, who will be led by Peter Edwards and feature Artistic Director Gary Crosby OBE on bass.
Founded in 2008, Nu Civilisation Orchestra tells stories that impact our times through the lens of music. The Orchestra has toured and performed extensively, including a BBC Proms performance in 2019 and an acclaimed national tour of Joni Mitchell's Hejira and Mingus albums in 2022.
Clod Ensemble is an award-winning performance company who have presented work at venues such as Sadler's Wells and New York City's Public Theatre. At Shoreditch Town Hall, they will fill the venue with movement and energy as their dancers will deliver both dense-knit choreography and passages of improvisation which dovetail with the band's playing.
And you are encouraged to join in! With dancers, band and audience all sharing the floor, attendees have the opportunity to get up close to world class performers and lose themselves in dancing along with this rhythmically explosive work. Wallflowers, hip-shakers, Mingus buffs and music-lovers of all stripes are welcome to join us in this celebration of the sensuality and power of jazz.
This unique live collaboration of The Black Saint and the Sinner Lady follows the 2022 EFG London Jazz Festival event in which Clod Ensemble's film adaptation of the album was screened. As well as this performance on 10th November as part of the 2023 EFG London Jazz Festival, The Black Saint and the Sinner Lady will also take place at Shoreditch Town Hall on 9th November.
Supported by:
Postcode Society Trust
The Cockayne Foundation
The Hinrichsen Foundation
Arts Council England
The Stanley Thomas Johnson Foundation