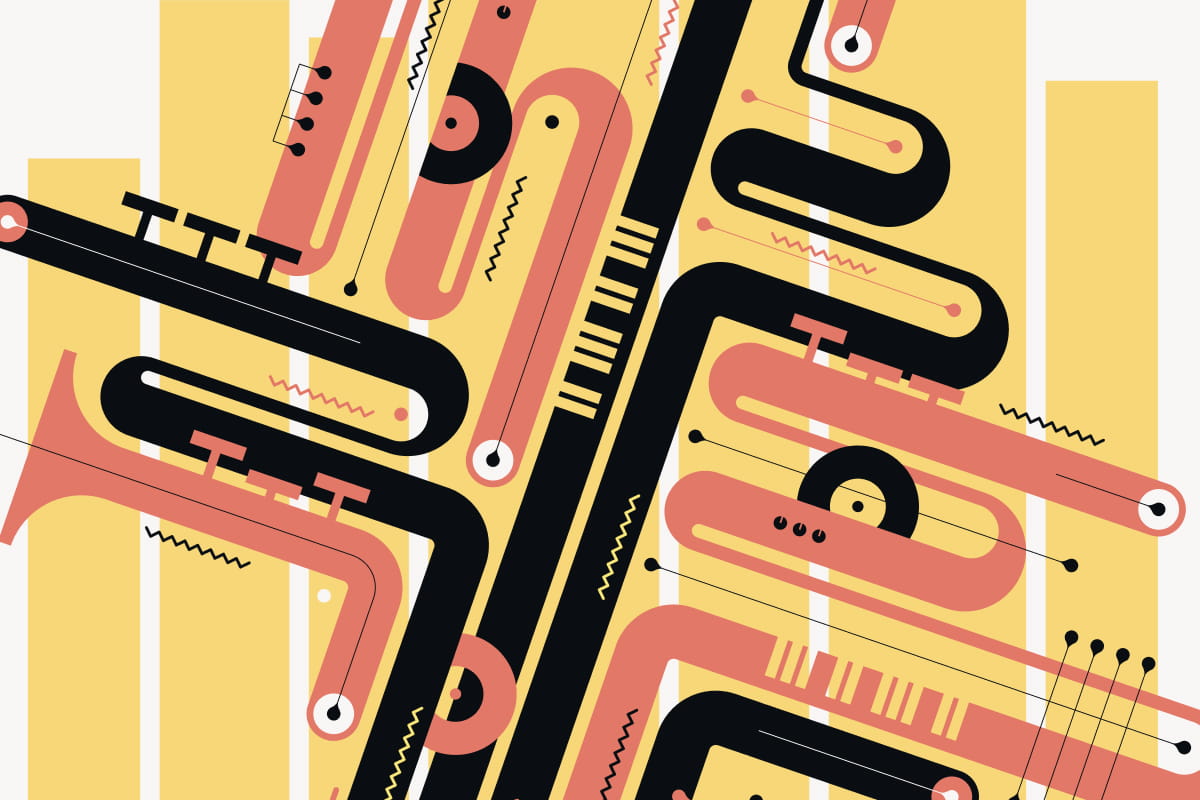 All Star Impro Lineup with Emre Ramazanoglu, Idris Rahman, Rob Lewis, Lewis Wright, Ruth Goller
Fri 12 November 2021
Stage time / 8:00pm
Location
LONDON Cockpit,
Gateforth Street,
Marylebone,
NW8 8EH
An All star improv lineup with Emre Ramazanoglu (Drums/Davul), Rob Lewis(cello), Lewis Wright (Vibraphone), Ruth Goller (Bass), Idris Rahman (Saxophone)
Emre Ramazanoglu is a versatile songwriter, producer, mixer, and programmer who loves everything from filmic landscapes, 80s pop, beats and jazz. In two words he'd describe his sound as "Dysfunctional Pop"
On one end he's a founder member of Jazz band Ill Considered and on the other he co-wrote and co-produced Making the Most of the Night by Carly Rae Jepsen. (with Sam Dixon and Sia).
Somewhere in the middle would be his work on the latest #1 Noel Gallagher album "Who Built the Moon" He was brought in by David Holmes to engineer but ended up drumming, programming and mixing the whole lot. He was an integral part of the sonic.
His stereo mixes include R I T U A L feat Tove Styrke, John Newman, Aqualung, Rita Ora, Jack Savoretti, Kylie (Music's Too Sad Without You, from her #1 album) and has just produced/mixed four Lily Allen tracks from her latest album including single Lost My Mind. He's co-produced and mixed Richard Ashcroft's new album Natural Rebel. He co-produced Warrior from Paloma Faith's number 1 album and mixed Jimothy and Tom Grennan recently. He's engineered for U2 and played drums for Michael Jackson
His Atmos mixes include Celeste, James Arthur, Navos, 220 KID, Fredo, David Holmes, GRACEY, Black Eyed Peas & HYYTS.
He's been writing with Steamdown, Theon Cross, Actess, Sampha, Foxes, Emily Burns, Pasteur, Morgxn (including single Holy Water which he also produced and mixed), LUME, JONES, Chelcee Grimes, Nilufer Yanka, Grace Barker, Lauren Aquilina, Barny Lister amongst others.
Emre worked with David Holmes on the movie Logan Lucky, on the Killing Eve sound track, and the Steven Soderbergh movie The Laundromat
----------
Idris Rahman is a London-based saxophonist, clarinettist, singer, bass-player, composer and producer. He has co-led the band Soothsayers for nearly two decades and has co-written and co-produced their seven critically acclaimed albums, the most recent released on label Wah Wah 45s. Soothsayers have played at most major UK festivals and have toured widely throughout Europe and beyond.
Rahman has performed and recorded with a whole range of artists including Anoushka Shankar, Arun Ghosh, Julia Biel, Osibisa, Ayub Ogada, Oriole, Dodgy as well as with his sister Zoe Rahman, with whom he has toured and recorded extensively.
Rahman is involved in a number of other jazz-centric projects as a performer/composer - Wildflower and Ill Considered have garnered a lot of attention since their beginnings in 2016/17. Wildflower's first album was nominated in Gilles Peterson's Worldwide Awards for Jazz Album of the Year 2018, and Ill Considered have toured extensively throughout the UK and Europe since 2018. They have released 11 albums from September 2017 to March 2020, including a Christmas album.
As well as performing regularly, Rahman has a studio in South London where he has produced and mixed many albums, racking up a catalogue including two Mercury-nominated albums that he mixed - Melting Pot by Zoe Rahman and Basquiat Strings' debut album - and MOBO-nominated album Love Letters and Other Missiles by Julia Biel which he produced. He has written and produced music for television and film, and is currently working on music for a feature film to be released in 2020/21.
----------
Rob Lewis is a composer and cellist specialising in music for film, TV and live spaces. He has scored a number of high profile projects for BBC, Channel 4 and independent productions. In 2018 he released his critically acclaimed album Momentum, premiered by Mary Anne Hobbs on Radio 6 and performed at Kew Gardens as part of the show Harmonic. His follow up album '98' was released in 2020 and was commissioned by Google.
Rob is part of the 2021 BAFTA talent Programme.
----------
Lewis Wright is a multi-instrumentalist and composer, mainly known for his work as a vibraphonist, with a unique sound and approach to the instrument. Performing internationally as a virtuoso improviser, recording artist and band leader, he has been the recipient of various awards including Ensemble of the Year in the Parliamentary Jazz Awards with Empirical, the Worshipful Company of Musicians prize, as well as earning recognition in the DownBeat Critics Poll.
He has collaborated with artists as diverse as Wynton Marsalis, Tony Allen, Hugh Masekela, Michael Kiwanuka, Kit Downes, Melody Gardot and Julian Bliss. Lewis has situated himself between multiple disciplines, traditions and sensibilities and is on a continual path to enrich his artistic outlook.
----------
Ruth Goller is hailed by the Guardian for her "thunderous bass-guitar hooks'. Ruth is a bassist, vocalist, composer, environmentalist and solo artist. 
Goller helped lay the foundation for the UK's jazz renaissance, from her years on stage with Acoustic Ladyland and Melt Yourself Down, to more recently Let Spin and Vula Viel, whilst performing and recording with the likes of Shabaka Hutchings, Mercury-Award nominee Kit Downes, Sam Amidon, Bojan Z, Marc Ribot, Rokia Traoré, and Paul McCartney.