We're going online with a huge range of shows and special events
Streams from venues across London and online events, many available free; new work, new collaborations, unique performances, bespoke productions from international artists, talks, family events and interactive sessions, bringing this exceptional 10-day event to audiences across the world.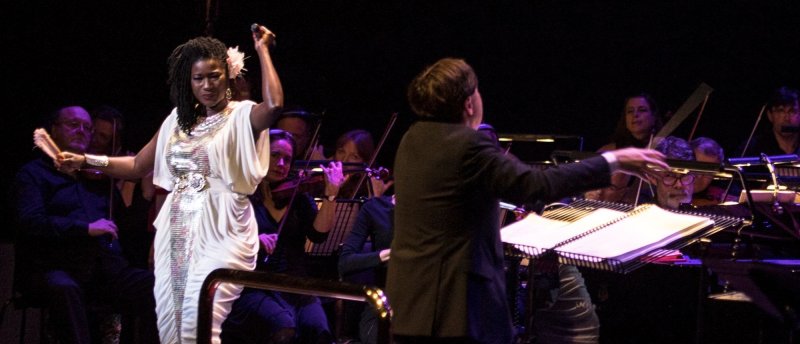 JAZZ VOICE
Opening concert, Friday 13 November | Livestreamed from Cadogan Hall

We open with our signature gala concert as part of the EFG Elements Series. The all star vocal lineup features China Moses, David McAlmont, Zara McFarlane, Luca Manning, Cleveland Watkiss and Vanessa Haynes, led by Guy Barker and hosted by Jumoké Fashola
The EFG Elements Series also includes performances from Judi Jackson (Saturday 21 November) and Kansas Smitty's House Band (Sunday 22 November), alongside a special concert livestreamed from the Barbican by Cassie Kinoshi's SEED Ensemble, with guests Shabaka Hutchings, Ashley Henry, Richie Seivwright and Yahael Camara-Onono (Saturday 14 November)
The Barbican will also host a live-stream of Shabaka Hutchings with Britten Sinfonia (Wednesday 18 November), whilst Dinosaur (Sunday 15 November), Yazz Ahmed (Thursday 19 November) and Binker Golding (Saturday 21 November) will present online concerts from Kings Place

EFG LONDON JAZZ FESTIVAL ON MIXCLOUD
A new partnership between the festival and Mixcloud will host a series of shows, including Emma-Jean Thackray (Friday 13 November), Sarathy Korwar (Thursday 19 November) and Rosie Turton (Saturday 21 November), all filmed at Total Refreshment Centre
Catch our Between the Lines Festival streams: a night curated by Leafcutter John (Tuesday 17 November), an Erased Tapes Special featuring Anne Müller, Daniel Thorne and Hatis Noit (Monday 16 November), and The Spectacular Empire featuring Loraine James, GLOR1A and more (Wednesday 18 November)
Tenderlonious Presents the Music of 22a (Sunday 22 November), a night featuring Ruby Rushton, Nick Walters, The Piccolo and a DJ set from Dennis Ayler, and the audiovisual performance of PALATIUM presented by GAIKA with Azekel & Miink (Friday 20 November)

EXCLUSIVE STREAMS FROM INTERNATIONAL ARTISTS
Digital concerts from Armenian piano maestro Tigran Hamasyan (Saturday 14 November), Pat Metheny's bassist Linda May Han Oh (Monday 16 November), a collaboration between French guitarist Paul Jarrett and inspirational drummer Jim Black (Monday 16 November), a concert filmed in Paris by Vincent Peirani & Emile Parisien (Tuesday 17 November), a performance by Cuban pianist Harold López Nussa (Tuesday 17 November) and a concert by Norwegian guitarist-compeser Hedvig Mollestad (Thursday 19 November). 
Istanbul Psychedelic (Saturday 21 October) features huge names in Turkish alternative music, Moğollar, Baba Zula, Islandman and Ilhan Ersahin's Istanbul Sessions, whilst Vilnius Jazz transmits the very best of Lithuanian talent (Sunday 15 November).
The Festival continues its close relationship with Chicago's ground-breaking label International Anthem, presenting Ben Lamar Gay (Sunday 15 November), then New Switzerland (Saturday 14 November) brings together Julie Campiche, IKARUS and Trio Heinz Herbert, whilst New Sweden (Saturday 21 November) includes Fartyg 6 and POST-SUN-VISION, plus a performance by collective Irreversible Entanglements (Sunday 22 November), featuring front woman Moor Mother.

Multi-instrumentalist and composer Orphy Robinson joins with composer / filmmaker / director Gabriel Finn to deliver Orphy Robinson's Virtual Jazz Club Band (Saturday 21 November) featuring your musical submissions, and in a festival first multi-instrumentalist and producer Shri Sriram will accompany mindful Jazz Yoga (Sunday 22 November).
Singer Juliet Kelly will lead both 'Songs From Life' (Saturday 14 November) bringing reminiscence for African Caribbean elders, and Jazz Kids (Saturday 14 November), an interactive musical session for all the family.

FILMS & BROADCASTS
BILLIE documents the life of the iconic Billie Holiday at the Barbican's Cinema on Demand Platform running throughout the festival, with a Q&A with the film's director James Erskine and co-producer Shianne Brown, hosted by Zakia Sewell (Sunday 15 November). Jazz 625 returns to celebrate the UK jazz boom with Sons of Kemet, Matthew Halsall, Sarathy Korwar, Moses Boyd Exodus, Ezra Collective, Nubya Garcia and Kokoroko (Friday 20 November) and hosts the final of the BBC Young Jazz Musician competition (Sunday 22 November).

BBC Radio 3 live broadcasts Jazz Voice, followed by jazz through the night, including J to Z Late live with Kansas Smitty's House Band, Camilla George and Jas Kayser, concerts by Chick Corea in 2012 and Wayne Shorter in 1995 from the our archives (Friday 13 November). The next day, J to Z EFG London Jazz Festival Special features exclusive performances from Festival shows (Saturday 14 November)
Abel Selaocoe joins with the BBC Concert Orchestra, conducted by Clark Rundell, from the Royal Festival Hall (Friday 20 November), and Jazz FM presents a host of interviews and a special programme dedicated to the Festival on Saturday 14 November.

...AND SO MUCH MORE
Writer and broadcaster Kevin Le Gendre will present livestream sessions ARTicle10: Conversations in the Era of Black Lives Matter (Tuesday 17, Wednesday 18, Thursday 19 November), where he is joined by six special guests for a series of conversations on race, racism and the need for change within the music industry. Guest speakers include Janine Irons (Tomorrows Warriors), Ammo Talwar (PUNCH), Carleen Anderson, Nicole Mitchell, Jason Moran and Orphy Robinson.
Gary Crosby, co-founder and artistic director of Tomorrow's Warriors, makes a rare appearance in Church of Sound: Gary Crosby's Groundation present the Charlie Parker Songbook and Originals (Friday 20 November)

The Festival will also feature a breadth of shows streamed from London's grassroots clubs and venues with artists such as Gwilym Simcock, Trish Clowes, Nathaniel Facey, Anoushka Lucas, and Sam Leak, performing from 606 Club, CLF Art Lounge, Green Note, Oliver's Jazz Bar, and more.

For all these shows, and more, visit efglondonjazzfestival.org.uk/whats-on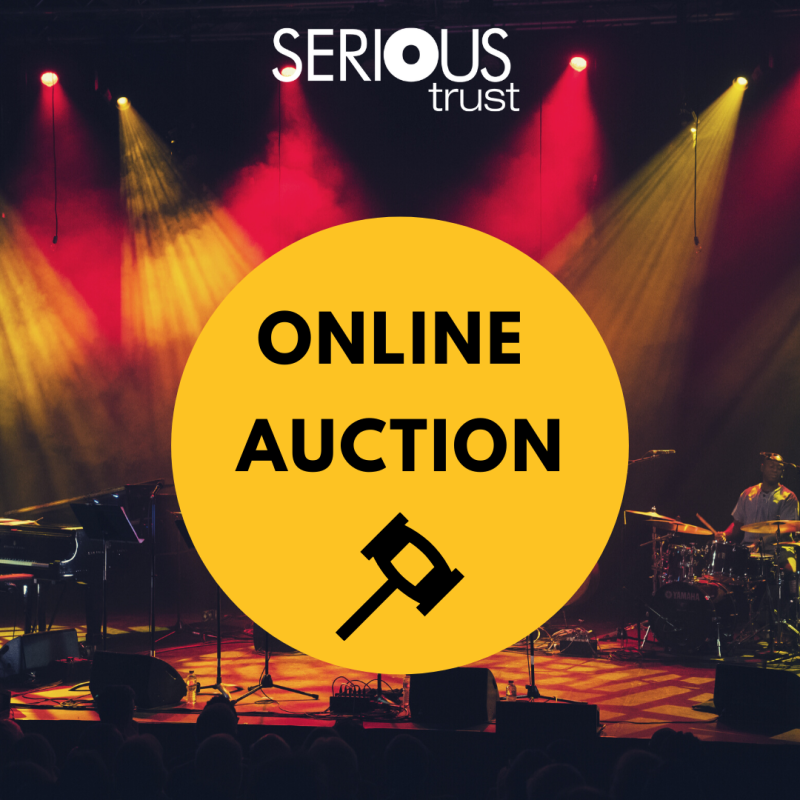 The Serious Trust will be holding yet another exciting online auction, offering an incredible line-up of items and rewards, from signed albums to access to exclusive performances. This one is not to be missed.
The auction will begin on the first day of the EFG London Jazz Festival, Friday 13 November. Watch this space for more information...