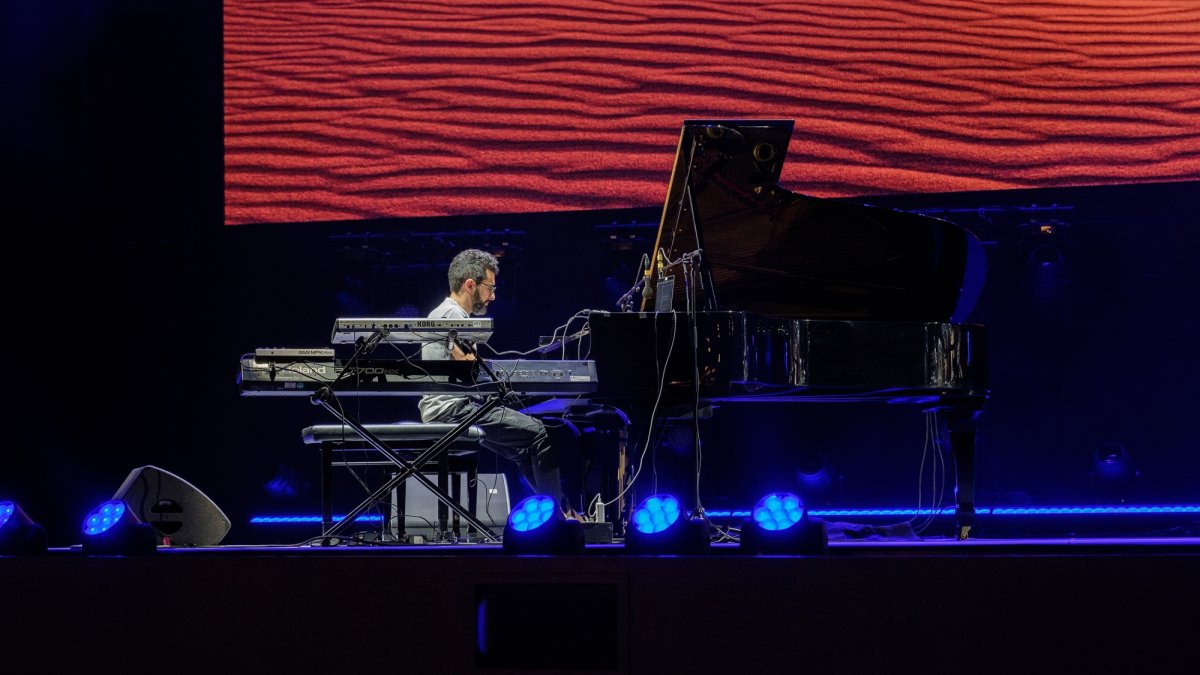 Tarek Yamani Trio
Wed 16 November 2022
Stage time / 8:30pm
Book Tickets
Location
LONDON Kings Place (Hall One),
90 York Way
N1 9AG
Tickets
£20 - £26 + booking fee
"Shimmering spidery piano godliness." (Time Out)
"A magician with his chromatics and disquieting passing tones." (New York Music Daily)
For this year's EFG London Jazz Festival, pianist Tarek Yamani makes his long-awaited return to London, featuring Elie Afif on acoustic bass and Khaled Yassine on drums.
Performing material from his critically acclaimed album Lisan Al Tarab: Jazz Conceptions in Classical Arabic, as well as brand new music from his upcoming album, Yamani traverses classical Arabic music within the frameworks of Black American jazz and maqam-based compositions set against intoxicating Mahragan and Dabke rhythms.
"From inverting the keyboard keys to questioning the sound of a rectangle to combining poetry and numerology with jazz, Tarek Yamani manoeuvres his creative process in many atypical ways."
Born and raised in Beirut, Yamani is a pianist, composer and producer who is acclaimed for music that is "full of poetry and mysticism" from revisiting the classic traditions of the Arab world through the complex rhythms and harmonies of Black American Music. With invigorating style, Yamani ingeniously intersects these two eclectic cultures and musical heritages.
Winner of the 'Thelonious Monk Jazz Composers Competition 2010', he was invited to perform at the inaugural International Jazz Day in 2012, held at the UN headquarters in New York. He has performed and composed in a variety of other styles including Afro-Cuban, Brazilian, Flamenco, Electronic and chamber music, and in venues such as the Smithsonian, La Merce (Spain), Dubai Expo 2020, Boulez Saal, Dizzy's (Jazz at Lincoln Center), Gran Teatro de la Habana, Melbourne Arts Center, Detroit Institute of Arts, and Aaron Davis Hall to name a few. Tarek also writes essays observing relationships between science and music as he self-published two educational books about rhythm. Tarek's 2017 work Peninsular, commissioned by the Abu Dhabi Festival, is a pioneering interpretation of rhythms of the Arabian Peninsula within the frameworks of jazz