In Conversation With...John Etheridge and Laurie Taylor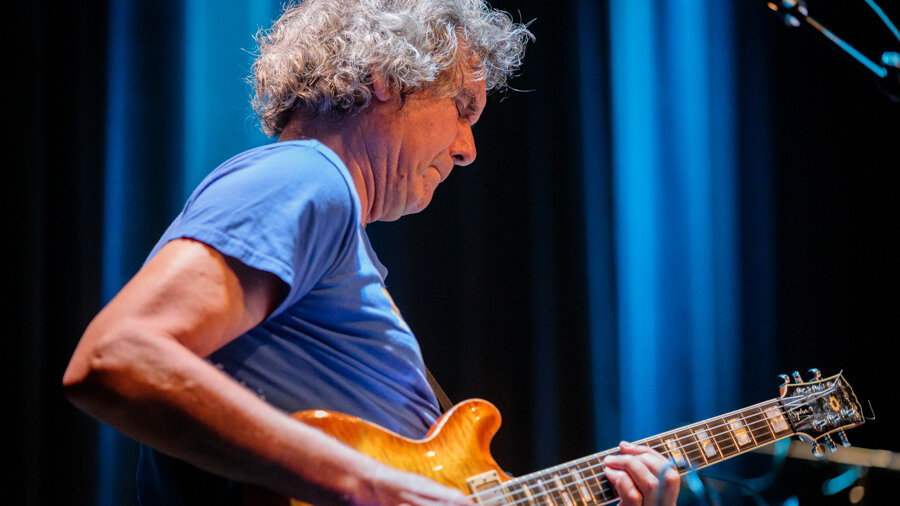 Tue 17 November
Stream time / 8:00pm
Book Tickets
Location
ONLINE (from Vortex Jazz Club)
Be a fly on the wall in a wide ranging and entertaining conversation between guitarist John Etheridge and broadcaster & Professor Laurie Taylor.

John Etheridge rightly enjoys a glowing reputation throughout the jazz world and beyond and has been described by Pat Metheny as, "One of the best guitarists". He is a prodigiously gifted and creative player whose approach to music can only be described as 'eclectic' as he refuses to accommodate or even acknowledge artificial musical boundaries. His range is well illustrated by his years of touring and recording with the iconic Stephane Grappelli while simultaneously doing likewise with the legendary jazz-fusion group, The Soft Machine. John is equally at home on acoustic and electric guitar and his willingness to engage with so many styles is matched by his ability to excel in any of them. He has played with John Williams, Yehudi Menuhin, Dizzie Gillespie, Herb Ellis, Mundell Lowe, Nigel Kennedy, Pat Metheny, Birelli Lagrene, Barney Kessel, Vic Juris and countless others. John's ability as an outstanding composer is sometimes overlooked but he is often under pressure from audiences to feature more of his own material.

Laurie Taylor began his broadcasting career as a regular contributor on Robert Robinson's Stop the Week.

He was educated at St Mary's College, Liverpool, the Rose Bruford College of Drama in Kent, and Birkbeck College, University of London where he obtained his BA. He then went on to do an MA at Leicester University.

Laurie's career began with a stint as a librarian, after which he became a professional actor, then an English teacher before joining the Sociology Department of the University of York, where he went on to become Professor of Sociology.

He is a consultant, writes for newspapers and magazines, contributes to television programmes and is an accomplished public speaker. He has one grown-up son and lives in London.

You might also like