Billie + ScreenTalk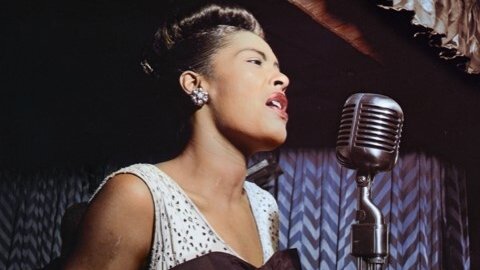 A newly-unearthed treasure trove of audio interviews about Billie Holiday form the basis of this new documentary profile of the great jazz singer.

Eschewing entirely the standard talking-heads presentation, this new documentary combines archive and performance footage and stills with a mosaic of voices, audio testimony from those who met or knew Billie Holiday, conducted in the 1970s for a planned biography. The book was scotched after the author's early death; the tapes have not been heard, until now.

The outlines of Holiday's life are well known, but the story is brought vividly to life through these first-hand accounts from her friends, relatives, fellow musicians (including Count Basie and Sylvia Sims), and even the arresting officer on one of her drug busts, and the pimp who pressed her into prostitution as a young girl. 

We're delighted to have a live virtual ScreenTalk, with director James Erskine and co-producer Shianne Brown, hosted by broadcaster, audio producer and DJ Zakia Sewell.  This will be at 5pm on Sunday 15 November.   
Please note this rental is only available within the UK

Visit Barbican's Cinema On Demand website
1. Choose the film you want to watch.
2. Add to basket and proceed to purchase.
3. If you already have an account, you can log in during the purchase. If not, create an account as you buy.
4. Once your purchase has gone through, you can click on the button to click to 'Watch your films', or click on the link in your email, or go to your account. 
5. Start watching your video. From purchase, you have 48 hours to start and finish watching the film. Enjoy!

If you have any issues, please contact Barbican's Box Office team via tickets@barbican.org.uk (between 9.30am and 5pm, Monday to Friday)